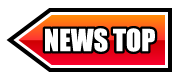 March 21, 2019 Updated.
■Notification for item selection screen improvement
When selecting items for level and skill upgrading, a feature has been added to prevent user to select excess items.
If the expected EXP(when level upgrade) or increase rate(when skill upgrade) for the selected item reaches the upper limit, other items will be grayed out and can not be selected.
★3×1 in selection
▼If you add one more item...▼
The item is grayed out because the level limit has been reached.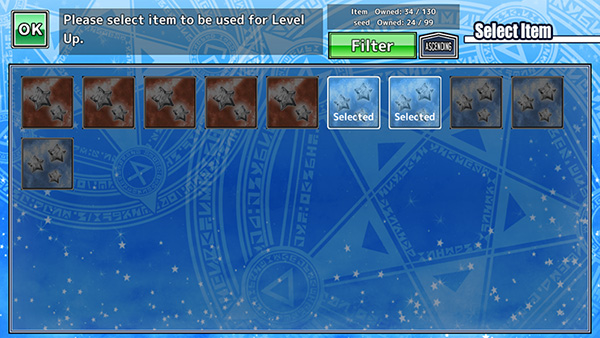 If the upper limit is reached while selecting multiple items, it will be changed to "Minimize excess" in "Selected items", and the other items will be grayed out.
★2×3, ★3×1 in selection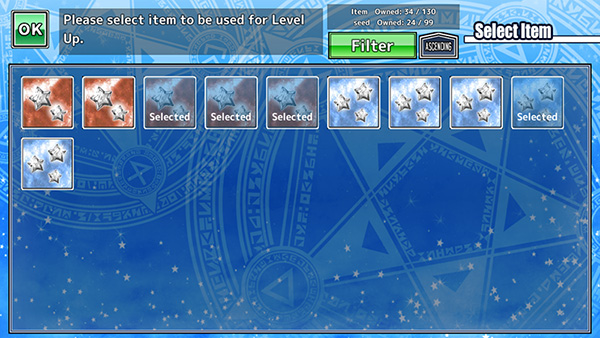 ▼If you select one more ★3...▼
It becomes combination (★ 3×2) that the excess is the smallest.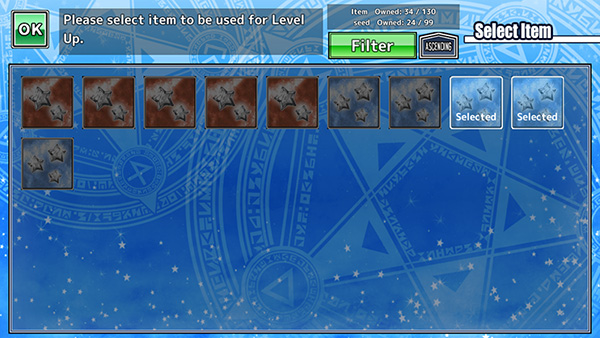 In addition, even when selecting the maximum amount of items (currently 5 pieces), the other items are grayed out, making the user understand easier that no more items can be selected.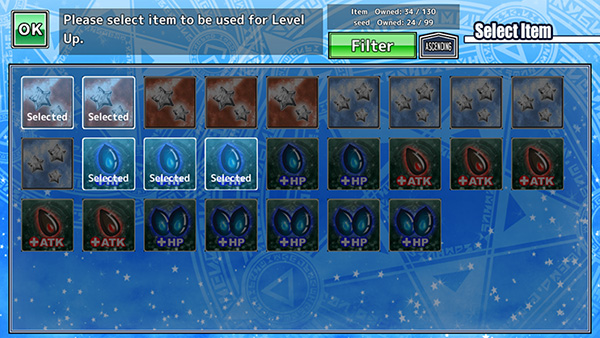 "Sort" & "Display" features in card select screen was updated
The button which was divided into two parts "Sort" and "Display" has been unified into one "Sort" button.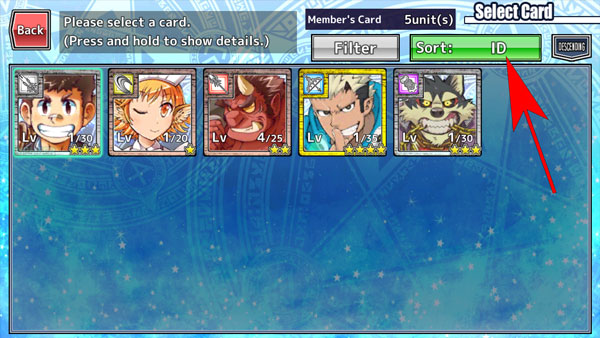 When the sort button is pushed, the window is displayed and now you can select from the list.
In the window, you can select "sort" and "display" respectively.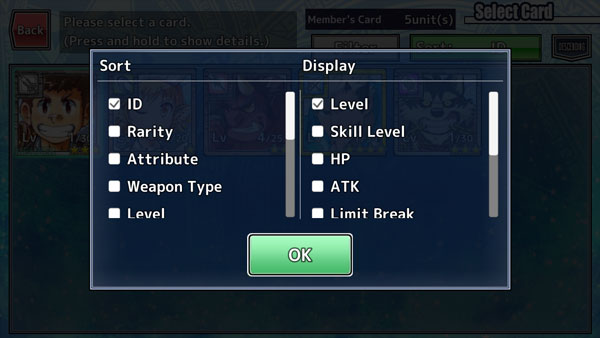 If you select a choice from the list of sorts, the same choices on the display list are automatically checked.
(It does not change if there is no corresponding choice)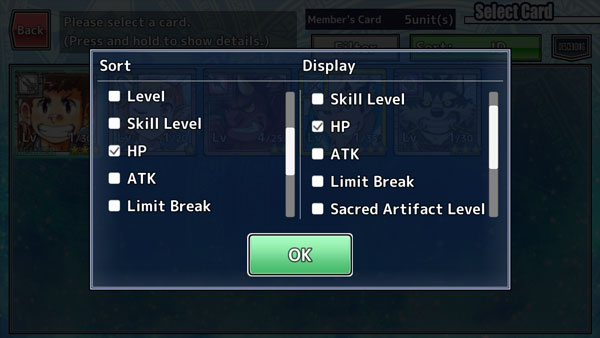 You can select the display list options again after being checked by yourself.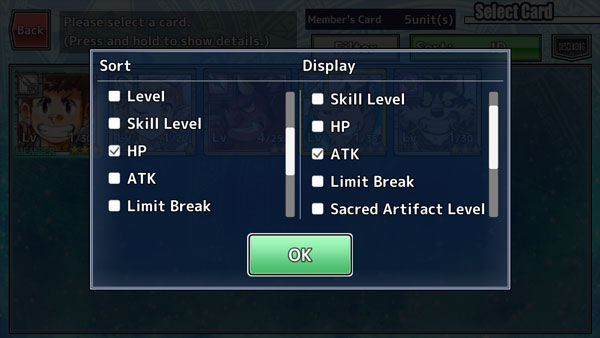 After selecting the option, press "OK", the sorting / display will be reflected.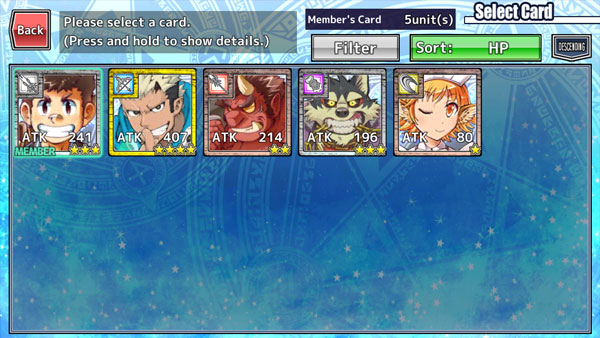 New "Seed" option was added to the "display" list.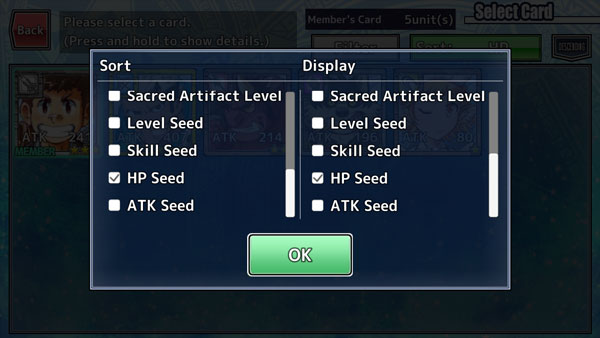 It becomes easy to understand the "valid / invalid" state of the filter feature.
When some kind of "filter" is hanging, the color of the button turns green and flashes slowly.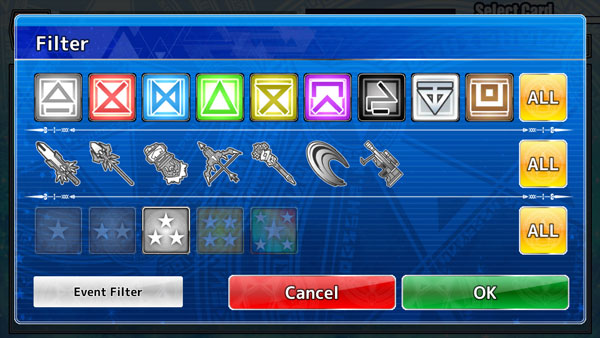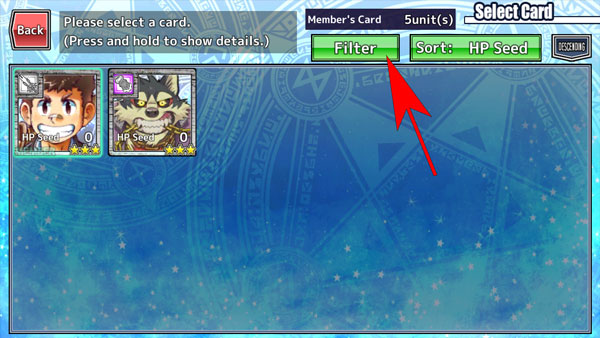 In this state, there is some cards was hidden.
If you can not find some card in select screen, let's check here and make sure the filter is valid or invalid.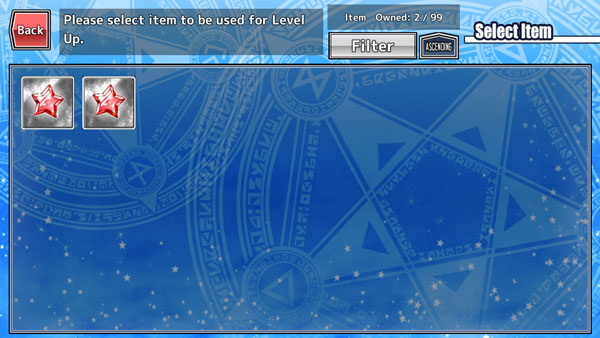 Past Announcement